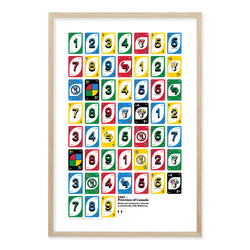 
The original UNO™ Cards influenced the look of our brand long before we dealt our first hand. The simplistic but thought-out pictograms and artwork, were the first pieces of graphic design that made a lasting impression on our founders. Paired with their love for the actual game of UNO™, they went searching for one of the 1970's decks to purchase as a memento. What they found was the nostalgic artifact that inspired this collection.
We all have that one blank wall in our home, apartment or office that is just staring at us asking for some love. Each UNO™ print is as nostalgic as the game of itself. Designed and printed in Canada.
24" x 36"
100% Cotton
Fine Art Archival Paper
Textured Matte Finish
Designed and printed in Canada
Delivered Rolled in Mailing Tube
Frame Not Included
Shipping Note: Prints are made-to-order and shipped separately. Please allow approximately 2 weeks for fulfilment. For exchanges or returns print must be in original condition.
Nostalgic Gift with Purchase
With each item purchased from the collection, you'll receive a limited edition, mini UNO™ x Province of Canada Card Game. Automatically added to cart. Learn More
There's a reason you feel reassured when you find a t-shirt that reads 'made in Canada' on the label. To many, local manufacturing is synonymous with quality and equality, which is why 'made in Canada' is the main pillar of our company. Keeping everything made in Canada makes our design studio a second home and our manufacturers our neighbours, and that's really the most Canadian thing we can think of.
We know it can be challenging to pick the correct size online, even when using a size chart. If you simply want to exchange for a different size, and your original order met our $100 shipping benchmark (before tax), we will cover the shipping. See our Return Page for excluded products and details. View our Exchange and Return Form to start an Exchange or Return.
Anti-Fast Fashion
The main goal of our brand is to be as sustainable as possible. The anti-fast fashion.
Made in Canada
We don't compromise on local manufacturing. All of our products are designed and made in Canada.
Organic Cotton
When possible, we try our hardest to use 100% organic cotton that is knit in Canada.
Crafted with environmentally friendly, kraft cardstock paper, this year's Gift Box adds a natural charm to all your Province of Canada gifts. The simple yet 'all you need' design makes it the perfect canvas for personalization — think ribbon, gift tags, black Sharpie art, whimsical wrapping paper, we could go on. Easy to assemble, our Gift Box ensures a delightful and hassle-free gift-giving experience for you and yours.
Includes tissue paper and Province of Canada sticker.
15in x 11in x 3 7/8in
Fits two clothing items with room to spare.
Ships unassembled.