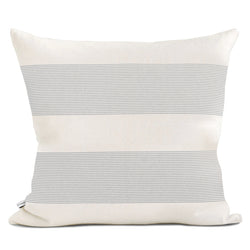 Brant Cushion Cover Ivory and Ash

Need a Cushion Insert? Our made in Canada feather Cushion Inserts are 20" x 20" and fit our Cushion Covers perfectly.
Our 100% cotton cushion covers are knitted and sewn in Canada. It's the type of cushion you'll want in every room in your house, cottage, apartment, dorm room or wherever else you lay your head. 
100% Cotton.
Ivory base, ash stripe.
Dimensions: 20 x 20"
Designed, knitted and sewn in Canada.
Made in Canada feather insert is optional.
Launder with Care: View our Laundry Care Page.
There's a reason you feel reassured when you find a t-shirt that reads 'made in Canada' on the label. To many, local manufacturing is synonymous with quality and equality, which is why 'made in Canada' is the main pillar of our company. Keeping everything made in Canada makes our design studio a second home and our manufacturers our neighbours, and that's really the most Canadian thing we can think of.
Anti-Fast Fashion
The main goal of our brand is to be as sustainable as possible. The anti-fast fashion.
Made in Canada
We don't compromise on local manufacturing. All of our products are designed and made in Canada.
Organic Cotton
When possible, we try our hardest to use 100% organic cotton that is knit in Canada.
Crafted with environmentally friendly, kraft cardstock paper, this year's Gift Box adds a natural charm to all your Province of Canada gifts. The simple yet 'all you need' design makes it the perfect canvas for personalization — think ribbon, gift tags, black Sharpie art, whimsical wrapping paper, we could go on. Easy to assemble, our Gift Box ensures a delightful and hassle-free gift-giving experience for you and yours.
Includes tissue paper and Province of Canada sticker.
15in x 11in x 3 7/8in
Fits two clothing items with room to spare.
Ships unassembled.