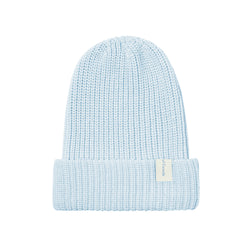 Relaxed Ribbed Cotton Toque Iris
Sale items are final sale.
Our Relaxed Ribbed toques are hard to beat. This year's is thicker, larger, slouchier but not too slouchy, and overall kinda perfect (in our humble opinion). Oh! Did we mention the tonal labels. All that to say, we think you're going to like them, a lot. 
Knit in Canada with 100% high quality cotton. Good for a Canadian winter, or fall, or spring, you get the picture.
100% Cotton.

Tonal wordmark label.

Available in assorted colours.

One size fits most.

Made in Canada.
We recommend hand washing in cold water and hanging to dry.
Launder with Care: View our Laundry Care Page.
There's a reason you feel reassured when you find a t-shirt that reads 'made in Canada' on the label. To many, local manufacturing is synonymous with quality and equality, which is why 'made in Canada' is the main pillar of our company. Keeping everything made in Canada makes our design studio a second home and our manufacturers our neighbours, and that's really the most Canadian thing we can think of.
Anti-Fast Fashion
The main goal of our brand is to be as sustainable as possible. The anti-fast fashion.
Made in Canada
We don't compromise on local manufacturing. All of our products are designed and made in Canada.
Organic Cotton
When possible, we try our hardest to use 100% organic cotton that is knit in Canada.