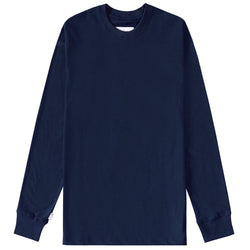 Monday Long Sleeve Tee Navy - Unisex
Buy 3, Save 10%

New Navy: For Fall 2023, we created a new Navy t-shirt colour that has a deeper blue tone compared to our previous Navy colour. 
Our Monday Long Sleeve Tees may not cure your Sunday night blues but at least you'll go to sleep knowing you have a quality, made in Canada cotton shirt to wake up to. We want to start your week with a feel good moment. You open your drawer and see a made in Canada, blank long sleeve staring at you. You unfold it, throw it over your head, slide your arms through the sleeves and you're tickled with the joy of 9oz, locally milled, organic cotton. You look in the mirror and you realize today is no ordinary Monday, today is a Monday Tee Monday.
Made in Canada
Unisex. Women should size down
100% GOTS certified organic 9oz cotton, knitted locally.
Flag Ribbon on sleeve.
Launder with Care: View our Laundry Care Page.
There's a reason you feel reassured when you find a t-shirt that reads 'made in Canada' on the label. To many, local manufacturing is synonymous with quality and equality, which is why 'made in Canada' is the main pillar of our company. Keeping everything made in Canada makes our design studio a second home and our manufacturers our neighbours, and that's really the most Canadian thing we can think of.
We know it can be challenging to pick the correct size online, even when using a size chart. If you simply want to exchange for a different size, and your original order met our $100 shipping benchmark (before tax), we will cover the shipping. See our Return Page for excluded products and details. View our Exchange and Return Form to start an Exchange or Return.
Anti-Fast Fashion
The main goal of our brand is to be as sustainable as possible. The anti-fast fashion.
Made in Canada
We don't compromise on local manufacturing. All of our products are designed and made in Canada.
Organic Cotton
When possible, we try our hardest to use 100% organic cotton that is knit in Canada.
Crafted with environmentally friendly, kraft cardstock paper, this year's Gift Box adds a natural charm to all your Province of Canada gifts. The simple yet 'all you need' design makes it the perfect canvas for personalization — think ribbon, gift tags, black Sharpie art, whimsical wrapping paper, we could go on. Easy to assemble, our Gift Box ensures a delightful and hassle-free gift-giving experience for you and yours.
Includes tissue paper and Province of Canada sticker.
15in x 11in x 3 7/8in
Fits two clothing items with room to spare.
Ships unassembled.